Our Boats
OUR BOATS
Cotehele Quay Gig Club has 6 boats, three of these are wooden boats built to the specifications of the Cornish Pilot Gig Association (CPGA) and are fully approved for competitive events. They are 32 feet long with a beam of 4 feet 10 inches and constructed from Cornish Narrow Leaf Elm.
The other three are glass reinforced plastic (GRP) training gigs built to the same dimensions as the wooden boats but are stronger and heavier. We are not allowed to race these against the wooden boats at regattas for safety reasons but there some regattas each year that are specifically for the GRP Gigs.
THE WOODEN BOATS
ZEUS
This is the Clubs first Gig built by D & J Currah in 1994 it was acquired by the club in 2010 when we were established.  Though it is our oldest Gig, Zeus remains a favourite with our competitive teams.
CREAM OF CORNWALL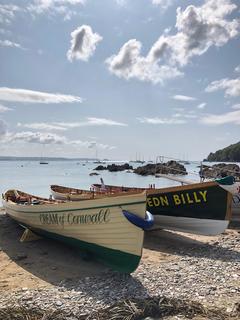 The Club commissioned Brian Nobbs to build Cream of Cornwall in 2010. Roddas Creamery supported the purchase through a grant and loan.
TEYLU
The club commissioned a second Gig from Brian Nobbs in 2014. Samworth Brothers Sports Trust funded the purchase for which the Club is extremely grateful. It was the delivery of this boat that confirmed the choice of Cream and Green as the colour for all the Club's Gigs.

THE GRP BOATS
These were all built by Trevor Deakin at his St Austell facility and used by the club on an almost daily basis for training, recreational rows and community support rows that we provide for charities and local organisations
These boats are both heavier and stronger than their wooden counterparts, which makes them ideal for regular use involving launching and recovery on each occasion
EDGECOMBE
Purchased in 2013 with money from the Clubs Funds
BURCOMBE
Purchased in 2015 with money from the Clubs Funds

DANESCOMBE
Purchased in 2021 with money from the sale of our old gig Pasty, and from Club funds